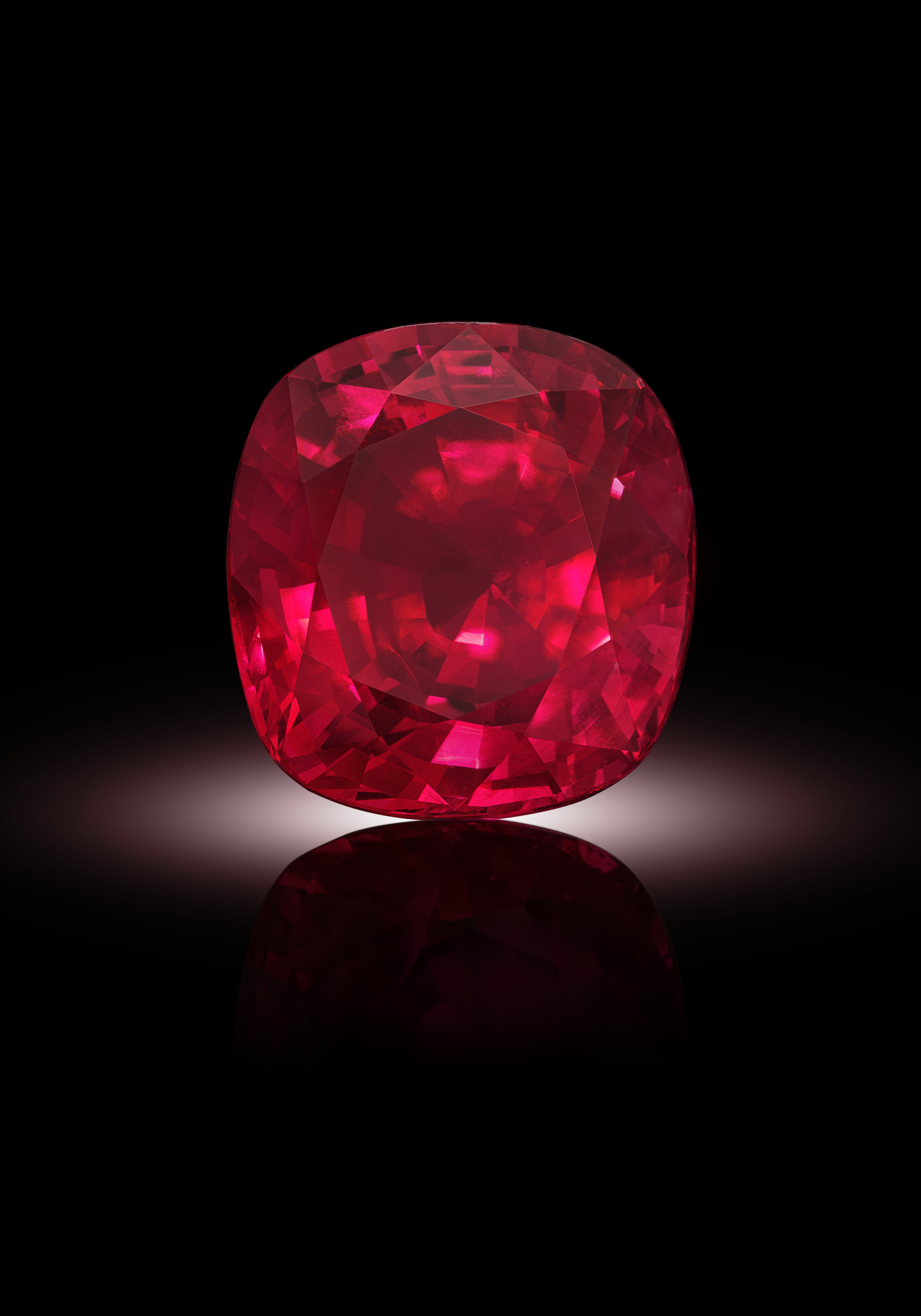 • At 55.22 carats, the rare gemstone is the largest and most valuable Ruby to ever appear at an auction.
• It's expected to achieve in excess of $30 Million, unearthed in Mozambique, and cut from a 101 Carat rough.
• The world's largest gem-quality Ruby in existence – The Estrela de Fura 55.22 will highlight Sotheby's magnificent jewels auction this June.
"Already in its rough state, the Estrela de Fura showed its extraordinary quality traits with a potential to become a one-of-a-kind gemstone.
The cutter was able to realise this potential and created a faceted ruby with an astounding 55.22 ct weight, displaying a saturated and homogeneous red color, combined with a degree of clarity unseen in any other unheated ruby of comparable size.

To see a natural ruby of this size, with such a combination of quality characteristics spared from treatment was considered almost unimaginable. The natural ruby of 55.22 ct is setting a new record not only for Mozambican rubies, but also for rubies in general."
— The Gübelin Gem Lab
When FURA Gems announced its historic uncovering of the world's largest gem-quality ruby ever discovered in September 2022, the news dominated headlines the world over, prompting tremendous excitement and taking the gemstone market by storm. Unearthed from FURA's ruby mine in Montepuez, Mozambique in July of 2022, the gemstone – weighing an astonishing 101 carats – was subsequently named Estrela de FURA (Star of FURA in Portuguese), in a nod to its outstanding depth of color and size, and to shine a spotlight on Mozambique as a rich source of premium quality rubies. Even in its rough, untouched state, Estrela de FURA was considered by experts as an exceptional treasure of nature for its fluorescence, outstanding clarity and vivid red hue, known as 'pigeon's blood' – a color traditionally associated only with Burmese rubies.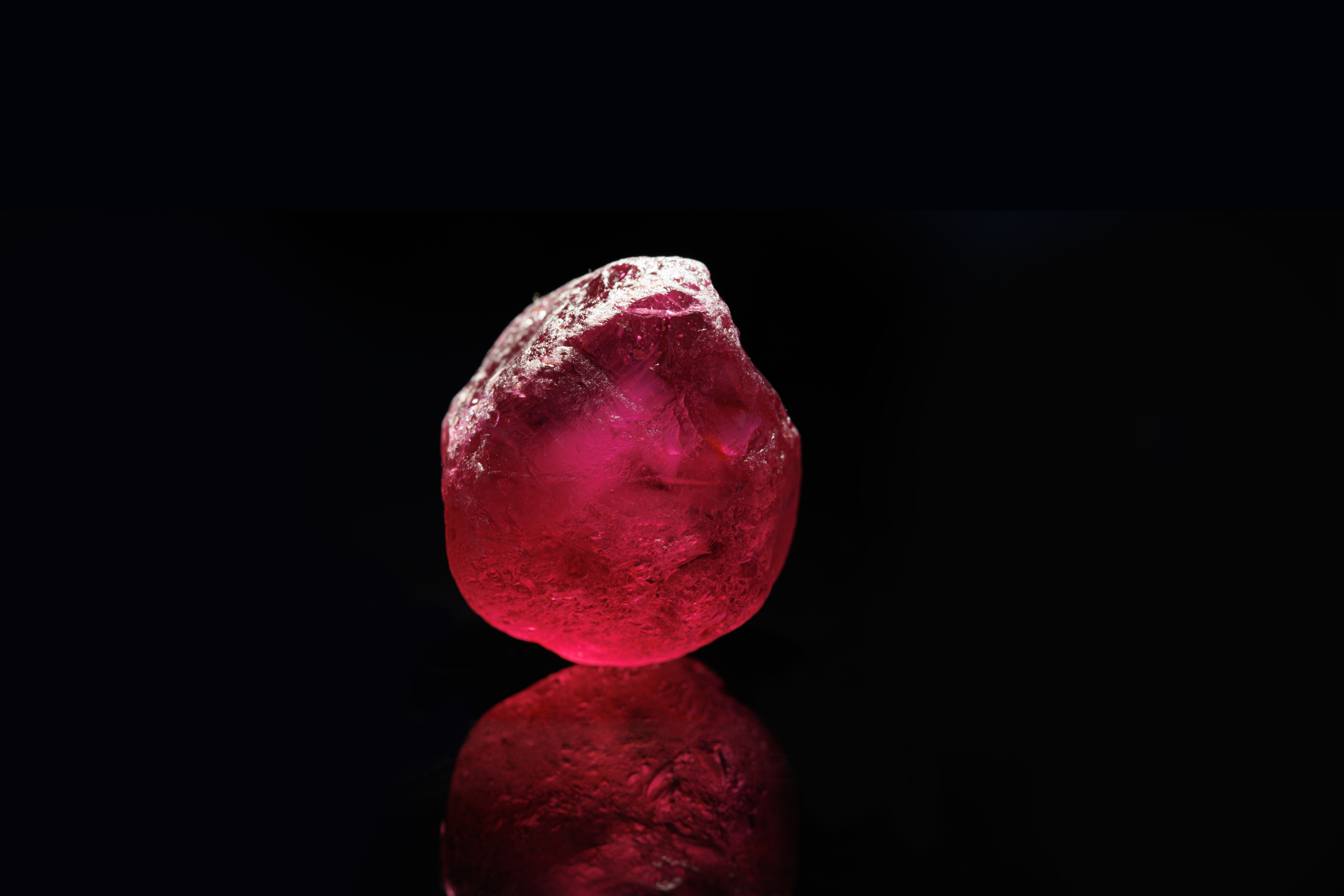 Now seven months after its initial debut, as the hammer fell on the final lot of The Exceptional Luxury Evening Auction in Hong Kong, speculations on the ruby's whereabouts were finally put to rest when Sotheby's auctioneer, Uni Kim, officially unveiled Estrela de FURA 55.22 to the world. Weighing a sizable 55.22 carats, this exceptionally important and rare Mozambique gem is the largest gem-quality ruby to ever appear at auction. Its combination of rich saturation of color, untouched by heat treatment, highly crystalline appearance and incomparable size that – with an estimate in excess of $30 million – places Estrela de FURA 55.22 as the most valuable and important ruby ever to come to market.
Following an initial series of studies of the 101 carat rough crystal to determine cutting options in the beginning of year, Estrela de FURA was masterfully cut and faceted by a team of artisans – with the rough transformed into a beautiful cushion-shaped stone, which according to a report from the Swiss Gemmological Institute (SSEF), "resulted in vivid red hues due to multiple internal reflections." The report further states, "a natural ruby from Mozambique of this size and quality can be considered very rare and thus anexceptional treasure of nature." The aforenamed gem is profoundly rich in chromium which, when exposed to ultraviolet light – as found in sunlight – causes the stone to radiate a fiery red fluorescence, further enhancing the stone's vibrancy, as though lit from within.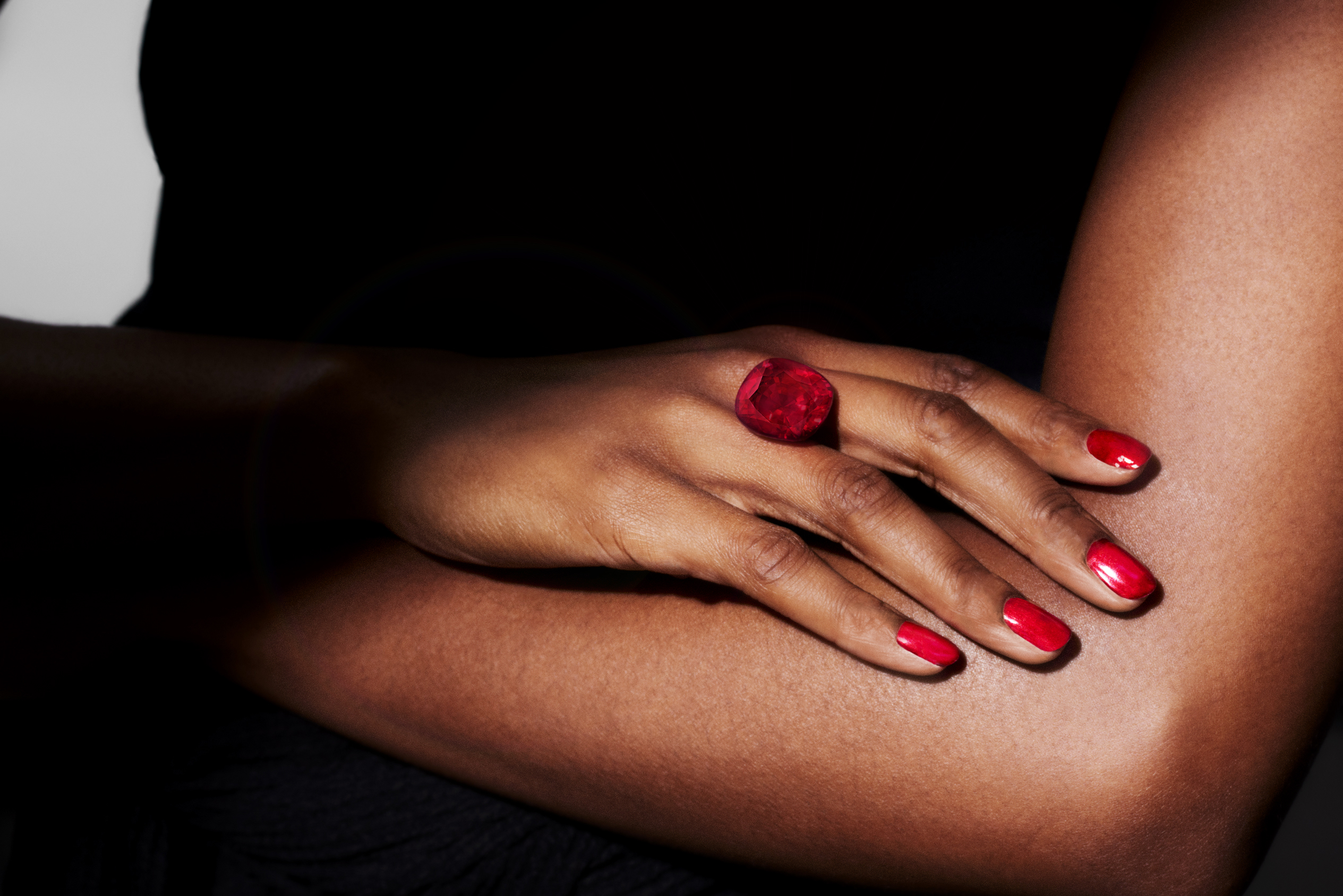 The ruby has become one of the most sought-after coloured gemstones at a time when colour dominates the world of jewels and rarity drives the market. Rubies of this importance and magnitude are exceedingly rare, with only two examples having ever broken the $15 million barrier at auction, making the appearance of the present gem a landmark event in itself. The Gübelin Gem Lab states further that the ruby "is setting a new record not only for Mozambican rubies, but also for rubies in general." Estrela de FURA 55.22 is poised to make history as it sets to surpass The Sunrise Ruby, a 25.59 carat ruby of Burmese origin, which sold for $30.3 million ($1,185,451 per carat) at Sotheby's Geneva in 2015, and still holds the world auction record for a ruby. (The current world record for a ruby sold at auction is held by the 'Sunrise Ruby,' which was auctioned at Sotheby's Geneva in May 2015 for $30.3 million. This price also established a new record for any ruby per carat ($1,185,451 per carat), at the time.)
The stone's new journey commenced on Thursday, April 6 at Sotheby's Hong Kong, where it is embarking on a worldwide tour, with exhibitions scheduled in Taipei, China, Singapore, Geneva and Dubai before it stars in Sotheby's Magnificent Jewels auction in New York on June 8.
FURA Gems Inc. is a young coloured gemstone mining and marketing company established in 2017. Headquartered in Dubai, United Arab Emirates, FURA has over 1,200 employees across continents. It is the first truly pioneering, creative and ethical enterprise to cover the entire spectrum of coloured gemstones.
The History of Ruby Mining in Mozambique
Ruby mining in Mozambique beholds a long, rich history, with the first significant discoveries of ruby deposits in the country dating back to the 1960s. However, it was not until the early 2000s that the mining of rubies in Mozambique gained real momentum, with the discovery of the Montepuez ruby deposit in the northern part of the country, where the Estrela de FURA rough crystal was originally found. The best of these rubies from Mozambique are characterized by an outstanding transparency and rich color, resulting in extraordinary overall quality. The Montepuez ruby deposit is one of the largest ruby deposits in the world, attracting significant interest from international mining companies.